BUKU MONOGRAF OPTIMALISASI KEUNTUNGAN USAHA BUDIDAYA IKAN DENGAN BIOEKONOMI
Synopsis
Pada awalnya, ilmu bioekonomi berkembang pada bidang perikanan tangkap. Bioekonomi perikanan perkembangkan sebagai respon atas fenomena tragedi kebersamaan (the tragedy of the common), terutama pada sumberdaya hayati yang bersifat akses terbuka dan tidakk daitur kepemilikanya.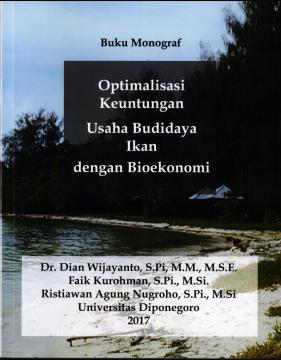 Copyright (c) 2022 PENERBIT UNDIP
License
This work is licensed under a Creative Commons Attribution-NonCommercial-ShareAlike 4.0 International License.