STANDARD OPERATING PROCEDURE (SOP) KEPERAWATAN MEDIKALBEDAH
Synopsis
Pelayanan spiritual pada pasien dilayanan kesehatan merupakan hal penting. Perawatan spiritual merupakan salah satu domain dasar dalam upaya pelayanan perawatan paliatif yang berkualitas sebagaimana yang telah dinyatakan dalam the National Consensus Project for Quality Palliative Care (NCP) dan the National Quality Forum pada tahun 2009 (Otis Green., et.al.2012). Perawatan paliatif merupakan suatu bentuk pelayanan untuk pasien yang menderita penyakit kronis stadium lanjut dan pada keluarganya, baik sifatnya mengancam jiwa maupun yang membatasi kehidupan, serta mempersiapkan pasien menjelang kematian sehingga meninggal secara bermartabat (Penderell & Brazil, 2010). Perawatan paliatif juga merupakan suatu layanan yang berfokus pada upaya peningkatan kualitas hidup pasien dan keluarga melalui perawatan komprehensif yang mencakup bio-psiko-sosial-budaya dan spiritual. Oleh karena itu, seorang praktisi kesehatan harus mengetahui akan pentingnya peran spiritualitas terhadap pasien dan keluarganya.
Uk. 15,5cm x 23cm (viii + 70hlm)
ISBN : 978-979-097-XXX-X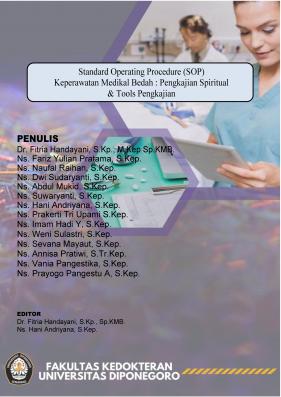 Copyright (c) 2022 PENERBIT UNDIP
License
This work is licensed under a Creative Commons Attribution-NonCommercial-ShareAlike 4.0 International License.